◊ MY CAREER HIGHLIGHTS ◊
****************************
Prior to my Inspection career I, for a living:
◊

Built Room Additions



◊

Remodeled Homes



◊

Worked on Tract Homes and Commercial Buildings



◊

Repaired structural damage caused by insects and moisture



◊

And… worked on a 110' Research Vessel for USC
Highlights through the years as an Inspector:
◊

1986 - I became employed as a Home Inspector by Richard F. Green Construction.



◊

1988 - A couple of businessmen and I started a home inspection company that multiplied from me to 7 Inspectors. I had the responsibility of hiring, training and supervising the inspectors. Our company inspected 75 to 100 homes and buildings per week, throughout Southern California.



◊

1990 - I went independent and joined the California Real Estate Inspection Association to advance my inspection career.



◊

1995 - 1998 I inspected large housing tracts for defect litigation attorneys pertaining to class action lawsuits, working closely with

experts specializing

in all the facets a building's components and systems. My duties were to investigate and photo document the houses, using destructive testing methods, pertaining to moisture intrusion and structural failures.
The experience and education was priceless and has influenced me to be the type of Inspector I am today!



◊

1998, I worked for Buyers of a new housing tract prior to or immediately after move in. Of the 63 homes that were built I inspected 35. The first phases of homes had many defects and the owners recommended me to each other. As a result, the Builder and his Sub-Contractors started to build better houses, limiting my services.



◊

2001, I worked for a builder as a Quality Control Phase Inspector on a track of 12 large homes from the slab up, this experience made me realize the challenges the builders and sub contractors have.



◊

2006, I was referred to the city of Aliso Viejo's City Council and Manager by the City's Building Official to perform a pre-purchase inspection of the commercial building the City's building department was leasing.

I am blessed to have started in the business within the early stages of the profession, and to obtain the experience I have received.
I am continuously rewarded by my Clients' appreciation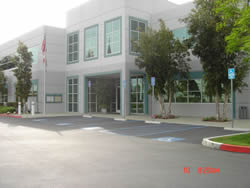 City of Aliso Viejo Leased Building Department Offices.
I conducted a pre-purchase inspection for the city.